About us
Two brothers and their search for Gold and Gemstones in Australia
We, Rolf and Daniel Amrein travelled to Australia in early February 1983 to take up jobs as operators of heavy earthmoving equipment. Having arrived at Sydney Airport we found a place to stay for the night with the help of two fellow travellers. Early the next day we bought an old second hand car. This was an interesting experience due to our complete lack of any English language skills. After having bought a few provisions and filling the fuel tank on our Leyland P76 we attacked the road north (Driving on the wrong side for the first few hundred yards. Not a good idea in the middle of Sydney.) towards the roughly 2000 km in the distance lying town of "Sapphire" at the "Anakie Gemfields". Arriving there late in the afternoon a few days later, we went about finding our future employer. After meeting some weird and wonderful people while making enquiries as to his whereabouts, we ended up by an idyllic little house in a yard which was littered with all sorts of machinery in varying degrees of disrepair. Not knowing that one is not supposed to leave the car unless invited to do so by the owner of the Homestead, we were very nearly savaged by two ferocious canines who appeared out of nowhere with fangs bared. Luckily the owners were at hand to curb the enthusiasm with which the two big Dogs were just about to tear in to us. It was a good thing that the animals were well trained and planted their backsides firmly on the ground after a loud "Baron, Remo sit" yelled by their master. After we introduced ourselves to Adi and his wife Eva who were indeed the persons we were looking for, it was made clear to us, totally unnecessary I might add that one is well advised to sound the horn of ones vehicle and wait to be invited before leaving a car around here. After drinking a glass of water inside and having agreed, due to the late hour, to meet again early next morning to discuss our employment with them, we headed back the short distance towards Sapphire. Eva drove in her car ahead to guide us to a Caravan Park where she organised a place to stay the night for us. Would we have known that apart from my brother and I also the whole Gemfield population of Mosquito's was spending the night in this minuscule two bed sleeping cubicle we might well have decided to rather spending an uncomfortable night in our car out in the bush than in this buzzing inferno of hungry blood sucking insects.
Most of the next day was spent with Adi who was giving us a tour through the surrounding Countryside and his Mine while explaining our prospective tasks to us.
In the meantime Eva was able to find a small hut which we agreed to rent for $50.- a week, and were able to move in to later that same day. Our new home gave the term "Open Space Living Quarters" a whole new meaning. Everything that normally crawled or slithered on the ground outside, seemed to seek shelter from the unbearably hot sun inside our new and humble abode. This was cause for some rather exciting experiences. But we were new in this Country and did not want to be unfriendly by complaining about little things like the odd Spider the size of a Saucepan Lid or Snakes that were longer than the beds we were sleeping in. Apparently these unwelcome visitors are accepted as part of life in the bush und usually dispatched without undue fuss and the help of a long handled shovel. Having arrived freshly from Switzerland, we don't mind admitting however, that on more than one occasion we were seeking refuge on Chairs and Tables whilst staring with unbelieving eyes at some over proportioned poisonous member of Australia's fauna which was taking a leisurely shortcut trough our living room.
Early the following morning we drove to the next bigger town called "Emerald", which is situated about 55 km east of Sapphire and bought some food and other supplies which we needed to make this wildlife transfer station that we rented, in to a liveable home for us.
The next day found us already hard at work operating some of Adi's earthmoving equipment.
Most of the bigger Mines on the Gemfields were working 24 hours a day at this point in time, which meant that we were working daylight hours for the first couple of weeks under the supervision of a long time employee of Adi's. After that we spend some time working during the night which was more comfortable due to the lower temperatures, but presented a problem whilst trying to sleep during daylight hours with the mercury rising to over 45°C more often than not. Because of the severe financial difficulties that our new boss was in at the time, we only got paid infrequently as did our co-workers. And this meant that our enthusiasm for this job was soon flagging drastically. After about two years we made the decision to start mining for Sapphires ourselves. It was not the most ideal time for this new venture of ours, because our finances were at a historical low and the worldly goods we owned consisted of a reasonable amount of food reserves, Car, Tent, Picks, Shovels and last but not least our very young Dog Rex. Within a couple of weeks digging through some very hard ground at a locality called "Reward", we managed to come up with a few Sapphires just in time because we were down to $20.- between the three (Including the Dog) of us. For the next ten years we kept working our own small underground Mines, with dogged determination and a will to succeed in making a living. This was not easy at times and we had to work for Farmers and Machinery Miners every now and then to tide us over lean patches. But always we went back to working our own Mines as soon as the finances allowed this.
In 1996 we finally had to admit that although we could survive by doing this kind of work, we enjoyed so much, the monetary rewards were not big enough, compared to the effort we put in, and the decision to look for an other way of making a living was forced up on us.
Since working permanently for a boss was not to our liking we decided to make a long held dream become reality by following the call of the heavy yellow metal, Gold. By this time we had accumulated quite a lot of mining equipment, a couple of Caravans, a very basic Camp and a Underground Mine which consisted of six Mining Claims on "Bedford Hill" in Rubyvale, just to the north of Sapphire. We sold everything that was not essential to Gold Prospecting, and bought two new Metal Detectors and an old dilapidated Toyota "Land Cruiser" 4x4 with a camper built on the back of it. Then we proceeded to tear most of the Car to pieces, repaired and modified it to suit us. Then, with an Army Trailer hooked to the back of it which contained a Motorbike, Kitchen, Water and spare Fuel, we headed to the "Clermont Gold Field" which lies about 80 km north-northeast of the Gemfields. We can not remember how good we thought our chances were of doing any better than with the Gem Mining. But it felt very exciting to try something new and living in the Bush with all ones worldly possessions packed in a Car and Trailer. It gave us a feeling of independence and freedom. Spending our days prospecting for Gold and the nights sitting in front of a campfire while watching a spectacular sunset was perfect for us and our constant companion Rex. Sometimes we would not see an other soul for weeks, and that suited us just fine. We found Gold almost straight away but the amounts were rather humble. However we were sure as long as we could find enough to buy Food and Fuel we would get better at operating the Detectors and learn to read the land and it's Geology. We never looked back from this point onward. Our gold finds increased steadily to the point were we earned more money than working as Operators on the Gemfields. This combined with a fantastic lifestyle kept us happy and contented in the search for the big find over the coming years. And yes, we did make that big find. It was in the freedom of the lifestyle we were able to lead. It was in the incredible beauty of the Australian Bush with its fascinating and varied Fauna. It was in Sunsets the colour of glowing embers from our campfires, in front of which we spent many an evening contemplating life.
And it was in the peace that only the knowledge, of having spent an other day doing the thing one likes most in the place one loves best, can give you.
This is just a basic outline of the nearly 21 years my brother and I spent prospecting and mining for Gold and Gemstones in Australia. A more detailed version of our adventure in Australia's Bush may follow at a later stage.
---
---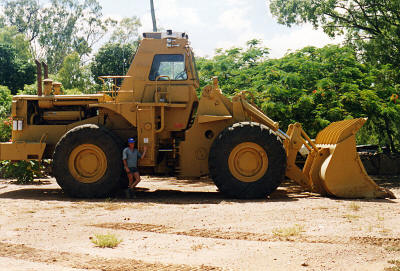 Cat 992
About 90t. with full bucket.
Uses 650 - 750 litres of Diesel per Day.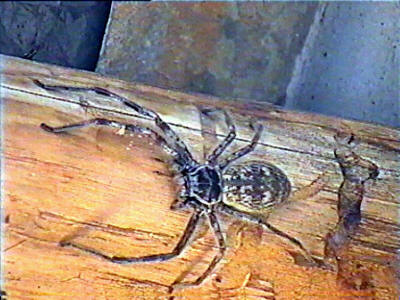 A harmless Huntsmen spider.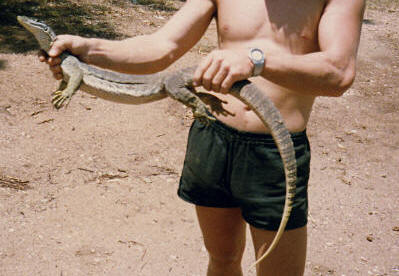 with a 'Goanna'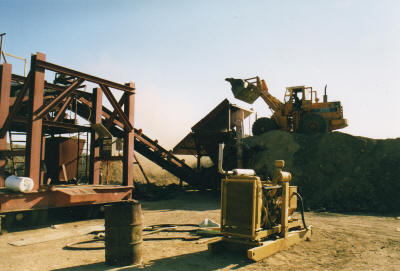 This big washingplant was built by us for one of the big Sapphire miners.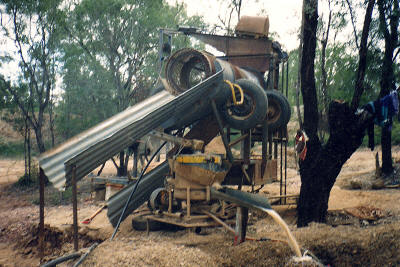 Washing Plant and hoist at Bedford Hill around 1993.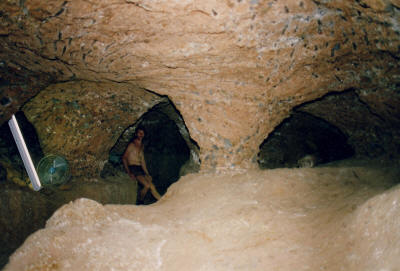 Tunnel at Bedford Hill with Rolf in the background.
This was our last and largest underground mine.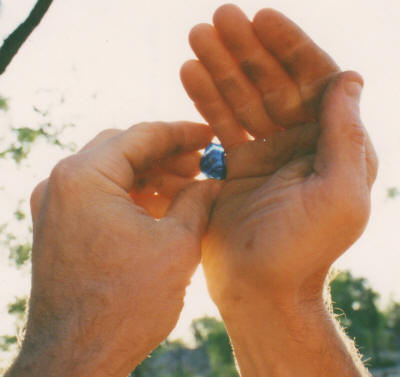 Blue Sapphire with Growth banding.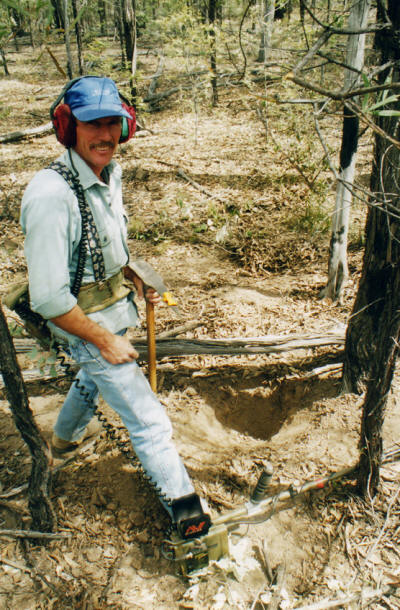 Rolf with a respectable find on our mining lease.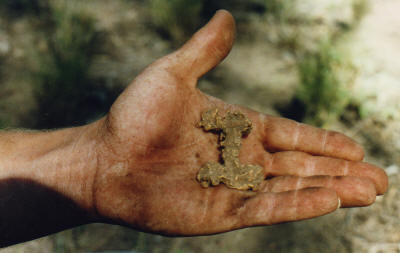 Dan's 56gr. 1.8oz Special.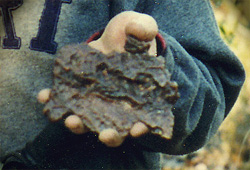 1020g. Nugget covered with hematite.
Brought a smile to Rolf's face.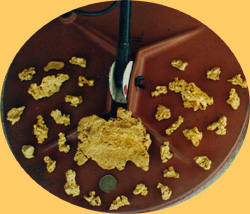 A selection of special nuggets.
^top^